[Manchester, N.H.] On March 2, CCA Global Partners announced its new partnership with M-D Pro, a division of M-D Building Products, to its U.S. member base. The CCA Global Partners includes three major flooring retail/wholesale brands: Carpet One Floor & Home, ProSource Wholesale and Flooring America. M-D Pro will service the CCA Global Partners through its existing distribution network of 300+ distributor locations across the U.S. as of March 2021, CCA announced.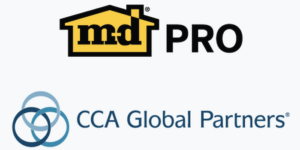 "We are extremely excited about our partnership with CCA Global and their esteemed retail brands," stated Fredrik Olsson, vice president of sales, M-D Pro. "We will be providing CCA Global retailers with our full arsenal of products including our PROVA Ceramic and Stone Installation Accessories, our full line of transition metals, vinyl and wood moldings, tools, and other sundries." 
According to the companies, this partnership allows for M-D Pro to continue its mission to drive more business to their distributor network and harness those relationships for long-term growth objectives. "The excitement among our sales team and distributors is growing as we approach the start date of this important relationship," said Gary Rossiter, national sales manager, M-D Pro U.S. "Everyone involved is looking forward to meeting with and working with the CCA Global member locations to jointly grow our business together." 
M-D Pro said it expects to bring about more awareness of the breadth of their product offering to the CCA Global Partners. There will be an upcoming opportunity to showcase at the CCA Global 2021 Summer Convention, tentatively scheduled to take place at the Gaylord Rockies on July 19-22 in Denver. "We are looking forward to getting back to travelling, attending the convention and meeting everyone," Fredrik shared. All the M-D Building Products employees are currently under company-wide travel restrictions due to the COVID-19 pandemic. The company said it is monitoring the situation closely as vaccination programs are rolling out to determine when these restrictions are expected to be lifted.
M-D Pro added it will also be taking matters into their own hands and running a special campaign designed to get products into the hands of all CCA Global Partners. "To encourage product testing and viability at both the consumer/professional level as well as the retail level, we will be providing exclusive product offers to CCA Global Partners' retailers," Julia Vozza, director of marketing, M-D Pro commented." More information will be made available to CCA Global Partners and posted to their Net Member Sites as of March 2, 2021.